PHONEDIT Signaix 4.2.0.8
This is the current stable version of PHONEDIT Signaix.
PHONEDIT Signaix is totally free but you need to be registered to use it.
In order to use Excel in PHONEDIT Signaix, you need to have Microsoft Excel 2003/2010 and the Office Web Components installed on your machine.
If there is a problem with the Excel Spreadsheet on Phonedit, look at the Toubleshooting guide
---
Installation Instructions
Double click PHONEDIT Signaix Setup.exe. The setup program requires administrator privileges.
When you launch PHONEDIT for the first time, The following dialog appears: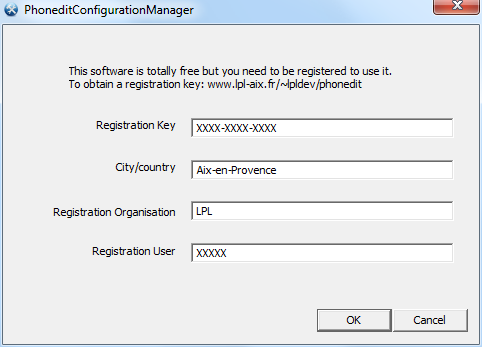 1. Enter the registration key that you downloaded in the Registration Key field.
2. You need to fill out three fields (City/Country, Registration Organisation and Registration User)
3. Restart PHONEDIT Signaix.